Day 1: Arrival Cairo
Today, you take your first steps towards a new adventure… Board your flight to Cairo International Airport where we will be waiting for you just before customs for any assistance needed before we transfer you to your chosen hotel to settle in and relax.
Overnight : Cairo Hotel
No Meals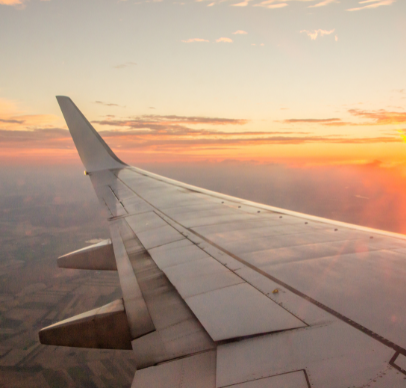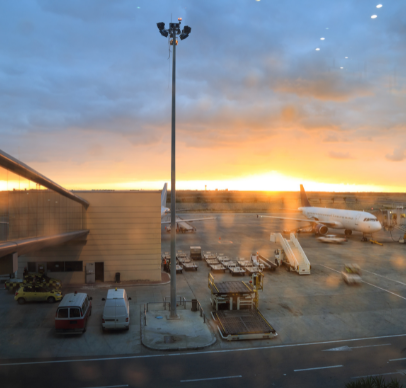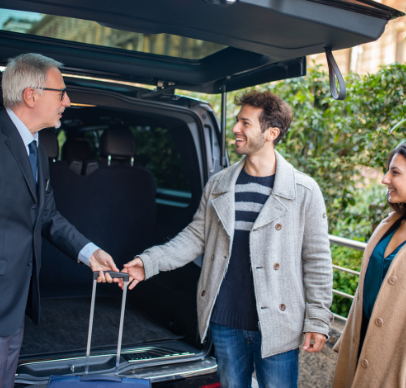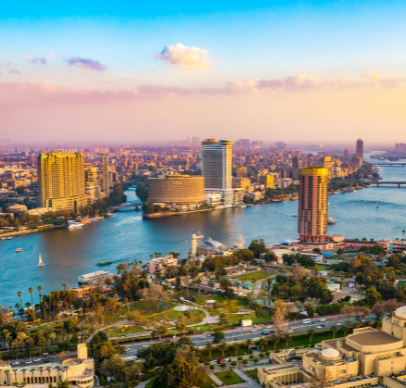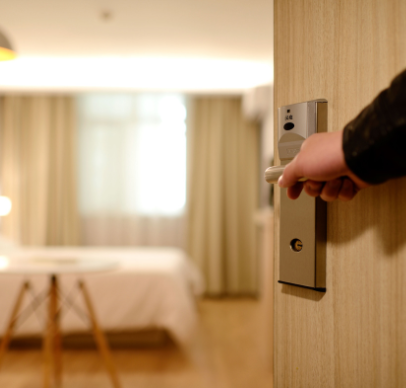 Day 2: Cairo, Pyramids, Sphinx & Museum tour
Rise and Shine to your first day in Egypt, get ready to see what this magical country has in store for you!
Your first day of adventuring starts at the 3 great Pyramids of Giza, Your private Egyptologist guide will amaze you with the facts about the only surviving wonders of the ancient world. Your next stop is at the indomitable Sphinx, way too regal in his stance guarding the Pyramids.
From Giza it's then on to Tahrir Square, to visit the Egyptian Museum, it's giant halls filled with what seems like endless displays of the richest Pharaonic treasures there is on this earth. Feel mindblown with the brilliant jewels, artifacts and funerary decorations you have ever seen, It is just Stunning alongside, of course, the mummies!
At the end of your sightseeing, Your private driver will transfer you back to your hotel.
OVERNIGHT: Cairo.
MEALS: Breakfast.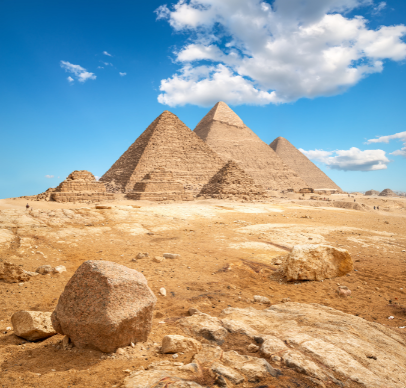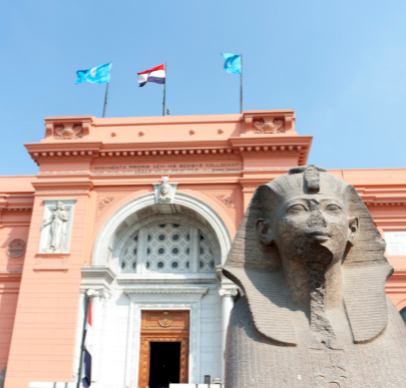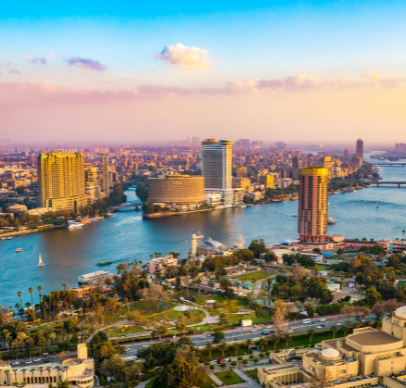 Day 3: Fly to Aswan: Philae Temple & High Dam
This Morning, Catch a quick flight to Aswan and see why it's easily the prettiest town in Egypt!
Its mixed scenery of sand mountains of the Sahara Desert, fringed with palms and bright flowers, and the River Nile running through, is just a sight you won't forget! Your private guide will then accompany you on a short boat ride to Philae Temple which speaks for itself, even its location, on a private island surrounded by the crystal waters of the Nile and rock statues that look so imperfectly perfect. The romantic Temple and the panoramic breathtaking view will make you feel like you don't want to ever leave this place!
Your last stop of the day will be the High Dam before we take you to check into your hotel for overnight.
OVERNIGHT : Aswan Hotel.
MEALS : Breakfast.

Day 4: Board Nile cruise (Abu Simbel optional Tour)
Enjoy your lazy morning before checking out of your hotel, or get an early start and enjoy a trip to the Majestic Abu Simbel as an optional tour.
Later this morning, your private vehicle will take you to board your 5* River Nile Cruise for embarkation and begin your sailing adventure.
OVERNIGHT: Nile Cruise Boat
MEALS: Breakfast, Lunch, Dinner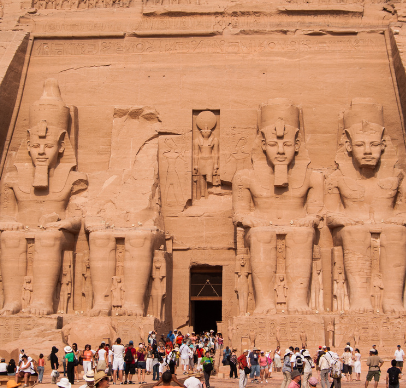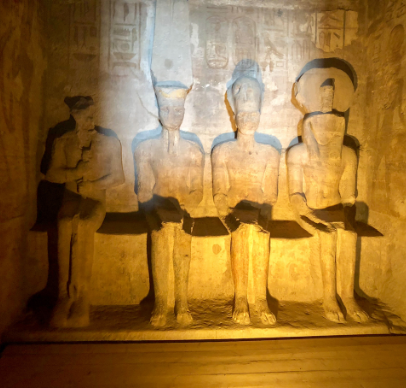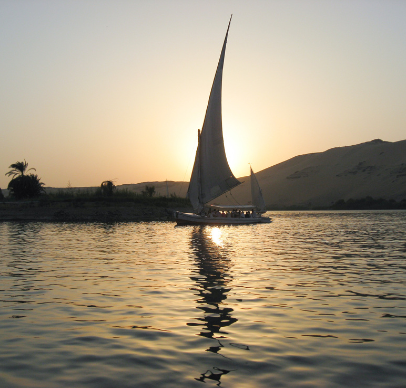 Day 5: Nile cruise to Edfu & Kom ombo
Today, we embark on a leisurely journey down the Nile, reveling in the serene atmosphere on the sun deck while observing the tranquil rhythm of rural Egyptian life along the riverbanks. Our initial stop brings us to the striking riverside temple at Kom ombo, known for its unique design as a double temple. One side is devoted to Sobek, the crocodile god, while the other is dedicated to Horus, the falcon-headed Sky God.
Our voyage continues, taking us to the magnificent Temple of Horus at Edfu. This evening, we will spend the night here, immersing ourselves in the rich history and culture of this ancient land.
OVERNIGHT: Nile Cruise Boat
MEALS: Breakfast, Lunch, Dinner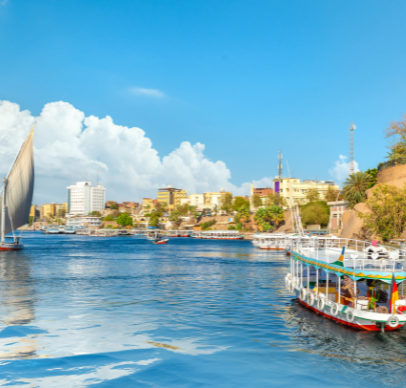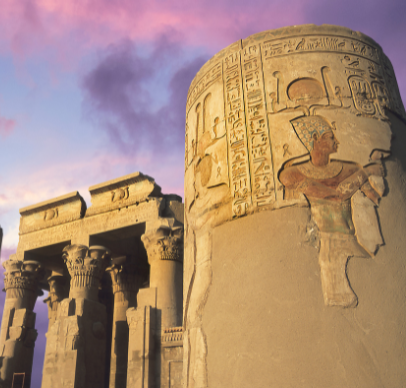 Day 6: Exploring Edfu Temple: A Journey Through Ancient Egypt
Your Nile cruise will set deck at Edfu we will take you on a fascinating wander around Edfu Temple also known as Horus Temple, it will take your breath away with its endless passageways. Your Egyptologist guide will set the scene for you as he tells you all about the history and artifacts of this enormous temple.
Back on board to continue sailing to the rich city of Luxor known as the open-air museum.
OVERNIGHT : 5* Nile River Cruise.
MEALS : Breakfast, Lunch, Dinner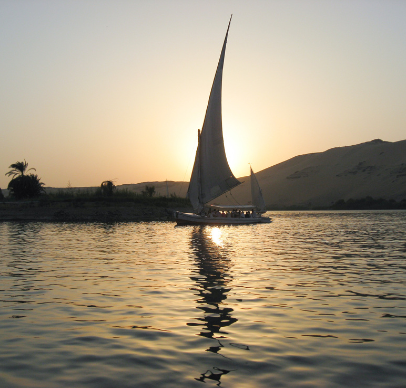 Day 7: Discover the Valley of the Kings, Hatshepsut Temple, Colossi of Memnon Karnak and Luxor Temple
Put on your walking shoes and get excited for your full day of more sightseeing, get an early head start in order to avoid the sultry hot sun of noontime. Your cruise will set anchor at the west bank of Luxor, taking in the ghostly valley of the kings filled with the spirits of the Pharaohs of days gone by. Entering some of the tombs is truly an experience that will give you goosebumps!
Your private guide will then take you to Deir El Bahari and walk down the colonnaded avenue of Queen Hatshepsut's temple, afterward, you will walk along and feel tiny next to the towering Colossi of Memnon, followed by a visit to the east bank of Luxor.
Your last stops of the day will be at Luxor and Karnak Temples, walk through the giant pillars and walls of both temples with its engraved and hidden symbols and messages that your Egyptologist guide will encrypt for you, take in the tall sculptures of some of the leaders of ancient times.
At the end of your tour of the West and East bank of Luxor, Your vehicle will take you to Luxor airport for your flight back to Cairo for overnight.
OVERNIGHT : Cairo hotel.
MEALS : Breakfast.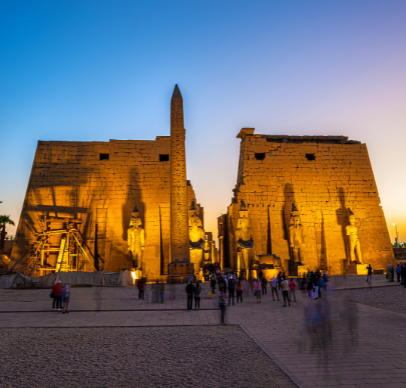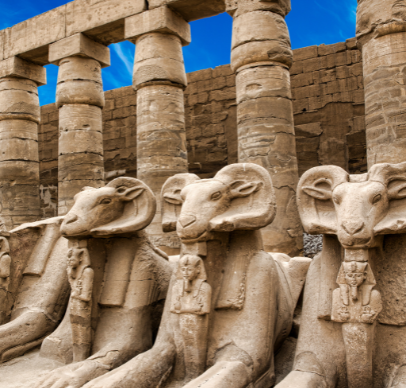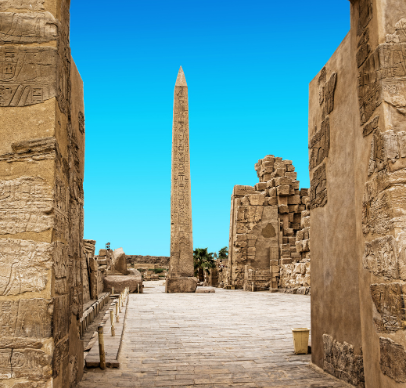 Day 8: From Cairo to Amman Jordan
Its time to say farewell to the friendly and dynamic Egypt and let the timeless land of Jordan pull you to a new exploit of the marvelous ruins and unique history.
Your private driver will take you to Cairo international to board your flight to Amman. Touch down at Queen Alia Airport where you will be met and assisted before showing you to your chosen hotel for a laid-back evening.
OVERNIGHT : Amman.
MEALS : Breakfast.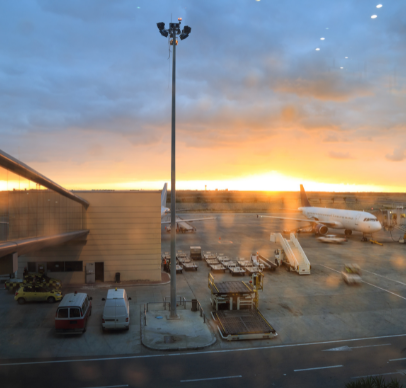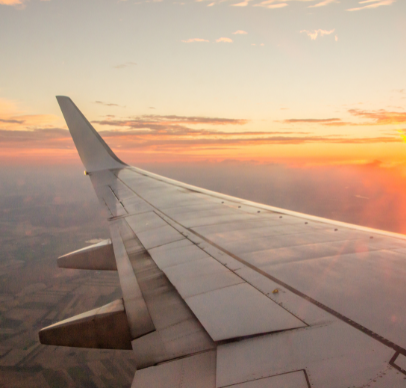 Day 9: Explore Petra & Enjoy the Dead Sea
This morning one of the new seven wonders of the world awaits you!
The day has arrived at last, where you get to see the fascinating capital of the Nabatean kingdom, Petra. Walk down the same paths where many ancient leaders left their footsteps. As you stroll down the curvey passageways of the massive canyon Al Siq with the clear skies above you, the greatest monument of Petra will slowly appear between through the cracks until you finally find yourself facing the masterpiece stone carving, Al Khazneh. Indulge yourself, and walk through the architectural and spiritual wonders of this majestic place examining every detail insight. Take in the hundreds of elaborate rock-cut tombs and a massive Roman-style theatre.
After your highlights of the day, Your private vehicle will take you back to the Dead Sea through Araba Valley where we will pass through biblical areas until we finally reach the lowest point on earth at 416 meters below sea level, now that is something to brag about when you get home!
Check in to your chosen hotel and enjoy your free evening.
OVERNIGHT :  Dead Sea.
MEALS : Breakfast.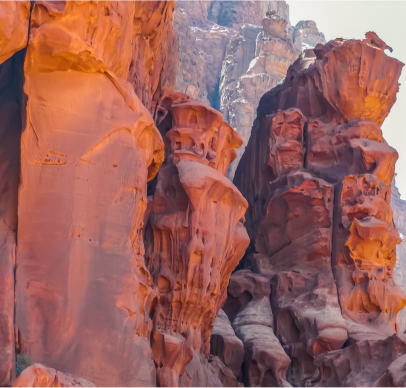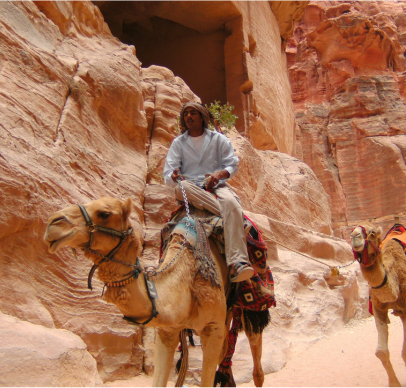 Day 10: Jerusalem Journey, Exploring Sacred Sites and History
Rise and Shine! We are off to Jerusalem today to live another chapter or your adventurous journey of a lifetime. Your Guide will accompany you through a city of unparalleled religious and historic significance, tour the most sacred destinations in the world.
Mount Scopus is our first destination of the day, we know the perfect spot for a breathtaking panoramic view of Jerusalem! On your way to the Old City, you will pass the Garden of Gethsemane, a garden of great beauty and pilgrimage. Visit the Byzantine Cardo and the western Famous Wall then follow the Dolorose to finally reach the church of the Holy Sepulchre.
Leaving Jerusalem and onwards to Bethlehem, visit the Manger Square and Basilica of the Nativity where Jesus was born and the original excavated mosaic from the 4th century still exists!
Depending on your daily schedule, you might visit chapel caves beneath the church of Saint Catherine if possible before crossing Allenby bridge back to Amman.
OVERNIGHT : Amman.
MEALS : Breakfast.
Day 11: Amman Free time, airport transfer included
Your day in Amman is at your leisure until we arrange transportation from your hotel to the airport for your departure. If you have a late afternoon or evening flight, additional sightseeing tours are an option, such as a visit to the Baptism Site at Bethany on the Jordan River.